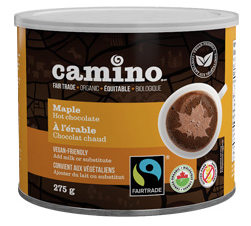 Maple Hot Chocolate
$7.00
A perfectly Canadian idea!
A carefully blended fabulous local, organic maple sugar from Citadelle Maple Syrup Producers' Co‑operative in Québec with fair trade and organic cocoa and sugar from our small‑scale farmer co‑operatives to make a truly Canadian hot chocolate. The result: a rich dark hot chocolate with just the right touch of maple.
Simply prepare with your choice of milk or milk substitute. Vegan-friendly. 275 gms.
CAMINO is a Canadian brand of fair trade and organic food products, owned by La Siembra Co-operative, based in the Ottawa-Gatineau region.
Established in 1999, La Siembra Co-operative became the first registered importers of Fairtrade Certified cocoa and sugar in North America and today works with 25 producer co-ops, supporting more than 47,500 family farmers in 14 countries.